PLATEAU OF LASSITHI
24/04/2020
GASTRONOMY TOUR TO CENTRAL CRETE
01/03/2019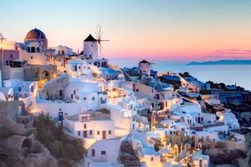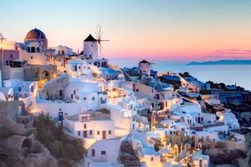 Included in the price:
Transfer from hotels located in the HERAKLION area: Amudara, Analipsi, Anissaras, Gouves, Gournes, Carteros, Kokkini Hani, Hersonissos, Malia, Stalida (except for hotels in the city of Heraklion itself)
Return tickets for the comfortable high-speed ferry SANTORINI PALACE.
Bus tour of the island of Santorini.
English speaking staff at the port. Accompanying throughout the trip with a guided tour in the language of your order.
Extra Charge:
Boat trip to the volcano (if desired, instead of the Black Beach) —16 euro.
Note: Additional payment for the transfer of certain areas, specify the location of your holiday when you order the tour.
Schedule:
Monday, Tuesday, Wednesday, Thursday, Friday, Sunday.
From the 26 of April to the15th of October 2019.
ATTENTION:
The schedule may change until canceled. This may be due to weather conditions, for example, a storm on the high seas at the very beginning (April) or the end of the season (in September and in October), the work of maritime transport personnel (strikes) and other force majeure situations.
Approximately Duration:
From 8.00 am to 20.00 (indicated approximately, depends on the area of rest).
Degree of difficulty:
Middle level.
Informative:
Easy introductory level.
Very beautiful!
Transportation:
Bus - about 1 hour one way to the port of Heraklion (depending on the area of departure), transfers around the island (short, 20 minutes each).
Walking part:
Walk through the streets of the cities of Fira and Oia.
Possibility of traveling with small children:
Yes, if you tolerate the journey on the ship.
Do not forget to take with you:
Headgear, swimwear, water, money for lunch, a light jacket. If you suffer from seasickness, take pills for motion sickness with you ("Dramina", "Emetostop").
Terms of return of the excursion:
Upon cancellation of the tour for more than a day - 75% refund.
No refunds in case of cancellation less than 24 hours.
CRUISE TO SANTORINI
on high-speed ferry
"SANTORINI PALACE"
FROM HERAKLION (1 DAY)
   Visit one of the most famous volcanic island in the Cyclades, group of the Greek islands.
   Santorini (Thira) - the southern island of the Cyclades, with an area of 76 km square and a coastline of 70 km long. Many legends take place in this island, as it is called the "Lost Atlantis" or the "Pompeii of the Aegean". Around 1450 BC, as a result of powerful volcanic explosion, most of the island sank into the sea, shaping the island as warped crescent, with a steep cliff (altitude 300 m) in the western part and gently sloping beaches in the east. The narrow winding streets of the cities with the panoramic view of the crater will be a sight you will never forget.

   The Santorinian landscape is absolutely stunning with its unusual and amazing beauty, with the white towns of Fira and Oia, contrasting with the black and violent volcanic rocks of the land. Then, the amazing color of the sea merging on the horizon with the blue Mediterranean sky is reflected on the domes of the churches. It is the most breathtaking sight of the Mediterranean islands, where dreams become reality.

   You will visit the towns of Oia and Fira , then swim at the famous beach of black volcanic sand.

   At each point you will spend about 1.5 hours. The tour will be held on the bus during journeys from point to point, in the cities - free time.br>    Yes, yes, this is the case when buying tickets and traveling on your own is more expensive. Only ship tickets, if you buy them in the port, will cost 124 euros, and add more transfers from the hotel to the port of Heraklion and back, as well as travel around the island of Santorini. So buy a trip to Santorini and win in price!

PROGRAM:
07:00 - 08:00    Departure from the hotel
09:00 - 10:45    Departure of the ship from the port of
           Heraklion (Crete)
10:45 - 11:00    Arrival at the port of Athinios
           (Santorini)
11:30 - 13:00    Visit to the city of Oia.
11:50 - 15:00    Visit to the city of Fira.
17:30 - 16:30    Arrival on the black beach of Perissa
           free time for swimming.
17:00 Departure of the liner from the port of Athinios
           (Santorini)
18:45 Arrival at the port of Heraklion (Crete)
* Departure from Santorini is sometimes delayed, but the bus transfer in Crete is always consistent with the time of arrival of the ship.

DURATION AND TRAVEL TIME:
1 hour 45 min By ship, between Crete and Santorini
6 hours on Santorini